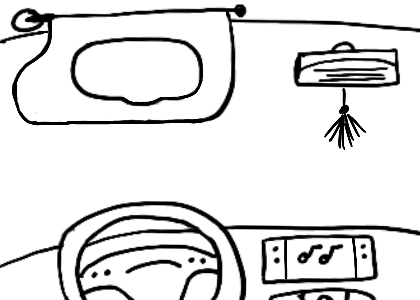 In our house, we have a daily parenting quota that must be met: we must ruin our children's lives at least once daily when it comes to technology. Ok, so this is not a real life quota, unless you ask our kids. They would say that this is a 100% real thing.
Technology has many good things to offer, but there are so many scary and downright nasty things that can come along with it. My husband and I have taken a lot of steps to make sure that our kids have the smallest possible chance to run into technology muck (a topic for another time). And while they ruin the lives of our children (according to them), they are quite effective.
In light of the complaining and begging and mumble-grumbling, I've been trying to come up with an analogy to help them understand that often restrictions are there to help us and not hurt us. The other day, it came to me!
I was driving into town with a brilliant blue sky sparkling before me. (If you live in the Midwest, the fact that there was any sunshine was miracle enough.) The sun was so bright that even with my sunglasses on I was squinting. (Again, this may because I'm not used to seeing the sun and may be turning into an albino cave creature from being cooped up inside.) I lowered the sun visor and, as usual, cursed the fact that they don't make sun visors big enough to help short people like myself. I straightened my back as much as I could, willing myself to grow two inches. As I hugged the steering wheel, almost pulling myself up off of my seat, I received an epiphany.
The visor limits our view to help us.
This gave me the perfect way to help my kids understand the reason for the technology limitations — The Visor Effect. It works the same way a sun visor works. On very sunny days, the visor is all the way down. For new sites, sites where there is a higher risk for muck, certain types of tech, or for younger children the technology restrictions are in full force.
On less sunny days, you may only need to bring the visor down a smidge. As children get older, learn the necessary tips and tricks to keep themselves safe, and have the internal toolkit necessary to know how to handle muck should they come across it, their technology visor is lifted to an appropriate level.
Just as different people need the sun visor to be at different heights, different kids will need different restrictions. Handling technology in our home is not a one size fits all thing. We use The Visor Effect, and we don't pay attention when people belittle that. Using our tech restrictions has perks. Our children still know how to write in complete sentences and hold a conversation in person.
The key is, find what works for your family and then don't feel guilty if it doesn't fit societal norms. It's your car. The position at which you put your visor doesn't affect anyone else. Your family, your rules. Now go out and enjoy the ride! And if you live in the Midwest, hopefully you'll get to use your visor!