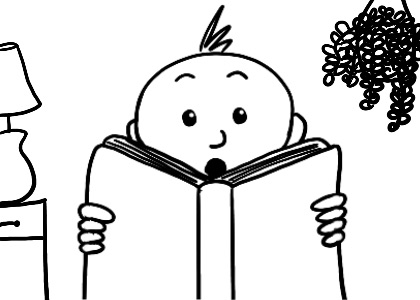 Have you ever had one of those moments that is so surprising all you can do is laugh– hysterically? Well, today was one of those days. My sweet, innocent 6th grade son came home from school with his Reading Counts books. (Which, in itself, is a rant for another day.) The first thing I notice is that they are both by Gary Paulson. "Fantastic!" I think. I enjoy Paulson's writing. He's something of a classic. Then I read the titles. "The River." Ok, great pick. It's the sequel to "The Hatchet." I personally have not read it yet, but I've read "The Hatchet" many times, so I have some context for how that story will progress. I then look at the second title, and this is where the fun starts – "The Glass Cafe, OR, the stripper and the state. How my mother started a war with the system that made us kind of rich and a little bit famous." Que hysterical laughter. What?! There's a lot to unpack here. First, that is the honest to goodness title. Again, what?! I can't… Second, my son is in 6th grade. Trust me, I know he knows about strippers. He is a 12 year old boy in a public school. It was still something of a shock to pull that particular book out of my fresh-out-of-elementry-schooler's bookbag. Last year he was reading Humphrey books. Going from hamsters to strippers is a bit of a leap. Add to this scene my mother who is flabbergasted and adamantly stating that her grandson will NOT be reading that book.
I immediately jump on Amazon to read the reviews. It's a mixed bag. People either love it or hate it. One reviewer in particular grabbed my attention. Richie Partington, I don't know who you are, but your review had me laughing out loud. I literally read every word of it out loud in my best Telenovela narrator's voice to my horrified mother. He opens his review with this quote from the book, "So you know my name is Tony and I am twelve and my mother who is named Alice except nobody calls her that, they all call her Al, like she was a guy only she isn't, she is a stripper, only it's called exotic dancing, at a place called the Kitty Kat, except that everybody calls it the Zoo on account of an animal act they used to have but don't anymore because the humane society said it was wrong to use snakes out of their "natural element" although Muriel, who danced with a seven-foot boa named Steve, swore that the snake slept through the whole dance except I know Steve who lives in the dressing room in a glass case and I can't tell if he's sleeping or not because he never closes his eyes." At this point, I can hardly see I'm laughing so hard. My mother has become a broken record, too appalled to say anything other than, "My grandson is NOT reading that book!"
I call my son in, I'm trying to stop laughing so I don't embarrass him, but it's only half working so it sounds like I may be choking or having a stroke, and inform him that he will not be reading that book yet. I told him we'll start with "The River" first, at which point my mother pipes up with, "Well what are they doing by the river?!" That does me in and I burst out laughing. My son makes a quick exit hiding giggles of his own. I quickly follow because I have to share this news with my husband at work. I call him up and repeat the whole evening's happenings. He, for once, is speechless. He too shares the sentiment that our son will NOT be reading that book. To which I say I agree, for now. My exact words were, "He will not be reading, but I 100% will be!" Now I have to know. I'm already invested. When I'm done with it, I'll decide if he can read it or not. Maybe I'll write a review for all of you who may be curious. Here's the Amazon link if you too have been pulled into the mystery of what the heck this book is actually about. Ah, life, what a splendid mess.