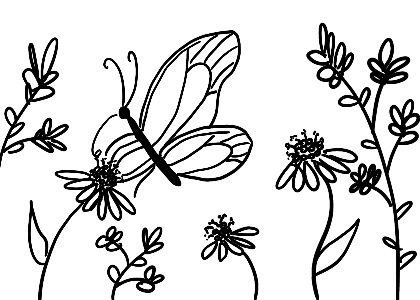 Gardening seems like such a peaceful, relaxing, fulfilling hobby. That is until the first weed appears and full out war is declared. Or in my case, you give up and declare the garden area an experiment in survival of the fittest. This is the cycle I go through every year: I dream of a beautiful garden filled with herbs and flowers. I plant said garden with gusto. I weed the garden religiously for a week. I give up and cultivate a garden of weeds instead. You would think that I would learn and either not plant a garden, or be more diligent in tending it but alas, I have not learned yet.
In last year's weed garden, we had a few dill plants that won the battle for survival and flourished. They were a favorite of the black swallowtail butterflies. In the fall, as the weather turned cold and the plants died (even the weeds), we noticed that some chrysalises were left. At first, we were sad that these poor little butterflies had not made it out in time. Then, my master gardener of an Aunt (who had the grace not to shame me for my weed garden) told us that swallowtail butterflies overwinter. They stay in their chrysalis all winter and then complete their metamorphosis in spring. We were amazed! After finding a large jar, we cut a few stalks of the dried dill and placed it in the jar, covering the top with some cut pantyhose and a rubber band. And then we waited. The jar was knocked over a number of times. Please keep in mind I have children, and even though the jar was in a safe spot, these are children who got their shorts stuck in the chandelier of my vaulted ceiling. But that's another story. I was 99% sure that the butterfly had no chance at life, but I figured we'd leave the jar there as greater miracles have happened.
Yesterday, after 6 months of stillness, a butterfly emerged. We were all ecstatic! My oldest wanted to release it right that minute and declared that he was calling PETA on me when I told him we had to wait for his sister to get out of the shower. When I yelled through the bathroom door for her to hurry because the butterfly had hatched, she jumped out of the shower, wrapped up in a towel and came right downstairs trailing a stream of water behind her. I briefly entertained the idea of insisting she get dressed first, but fearing a full blown riot, I declined. We all marched outside and happily released it into the wild.
Since then, I've been thinking how like that butterfly we can be sometimes. We want to try something new, chase a dream, or take a risk and so we'll get all prepared, gear ourselves up and then freeze. We fear rejection, that we won't be able to succeed, that we may succeed and then what, that we'll look ridiculous, or any number of other excuses.
And then we wait.
But the waiting stage isn't always a bad thing as long as it is just a stage and not a permanent residence. When it's treated as a stage, it becomes a place to learn, to grow, to solidify what we want and plan how we're going to do it. It's a place to become comfortable with ourselves and to accept that we can't please everyone and that sometimes we're going to look ridiculous. The waiting stage can become a launching ground.
I've been waiting for many many years to publish a book. My fears held me hostage far longer than they should have, but I finally started using my waiting stage and am ready to launch this dream.
My message to you is don't be afraid to wait. Just make sure that you're an active waiter, preparing your ground for launch. And I'm going to go prepare my ground for gardening. Who knows, perhaps this is my year to launch my gardening dreams too.
© Amanda Clark and Amanda Clark Books, 2019.