Gone are the days of easy to throw cartoon based birthday parties. We have entered the tween stage, where apparently even answering simple questions like, "How was your day?" becomes unbearably hard. When it came time to decide on a party theme my daughter threw me a curve ball – Mystery Party. I did my best to take the easy way out and just rent a party room at a trampoline park, but she was determined and so I buckled down.
Hoping to keep things as easy as possible for myself, I began scouring the internet for ideas. Surely there had to be some overachieving mother who had hosted a mystery party and put all of her amazing ideas online as free downloads. WRONG! I found plenty of places that wanted to sell Mystery Party Kits for a hefty hunk of change, but none that were offering anything of use for free.
So, my plans for the easy way out being foiled, I began to plan. It was time to put on my overachieving mom hat. Not to toot my own horn, but TOOT! I rocked it. The girls had a blast. The cost was not outrageous. And it was actually a lot of fun to put together.
What we did (Without the movie it took about 4 hours to get through everything):
A Scavenger Hunt for Treat Bags
A Clue Book Craft
A Break the Code Activity
An Escape Room
Nacho Bar for Dinner
Gift Opening
Where's the Cake Hunt
A What's In The Box Challenge
A Spy Movie
Scavenger Hunt
We started the night with a scavenger hunt. The prize was their treat bag which they needed at the beginning of the party instead of the end. I knew we had six girls coming so I made enough clues for them to take turns and each find two. I used neon colored index cards to write the clues on so that they would stand out a little, even when well hidden (These were tween age girls, but they were not completely familiar with my house). You can download the list of clues I used here for free. You may need to tweak them to fit your party space.
The treat bags I used were just plain old paper bags. It was supposed to be a mystery and what's more nondescript than a paper bag?! Inside were all kinds of fun mystery themed items. Many of the items we got from the dollar store, but I'll link to Amazon for ease of use. Here is what we included:
A small sketchbook (their clue book)
White crayons (needed for the coding activity later)
Markers (also needed for the coding activity later)
A code ring (We used Melissa and Doug's version. Whichever one you buy is what you will use to make clues with for the Escape Room and coding activity.)
Candy (You have to have candy in a treat bag. That's party 101. We chose to include a box of candy like you'd find at the movie theater.)
A Clue Book Craft:
We provided stickers and deco tape for the girls to use to decorate their clue book. (You could also offer floral tape and artificial flowers for them to decorate their pens with.) They had fun adding their own personal flair and it was an easy, low mess craft to offer.
A Break the Code Activity:
The girls needed to know how to use the code ring before they would be able to participate in the escape room. I did a short lesson on how to use it and then we had fun practicing. I had them write short messages to each other which gave them practice writing in code and decoding messages.
This was also when we used the white crayons and markers from their treat bags. The girls wrote a message with a white crayon on a white piece of paper. Then they colored over the crayon with a marker to reveal the message. We did find that darker colors of marker worked better for this.
An Escape Room:
Pick a room in your house that can be off limits until you're ready for this game. I used my daughter's room. This game took a lot of prep but it was worth it. I used 6 clues/activities. You can download my clues and how-to's here for free.
Clues:
I recited the first clue to get them started
Invisible Ink (I wrote a message with white crayon that they needed to color over with marker.)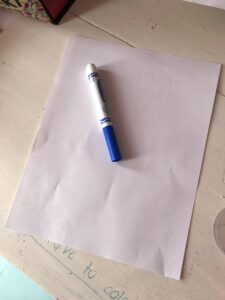 Decode a Message (I wrote a message using the code found on their code rings. This is where their clue books came in handy. They were able to write the message down as they decoded it.)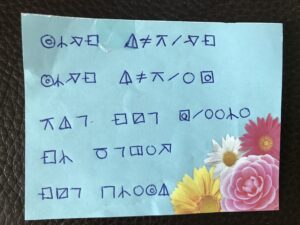 Backwards (I wrote a message backwards. It helped to write it forwards on a separate sheet of paper so I didn't have to think too hard about the way the letters looked backward.)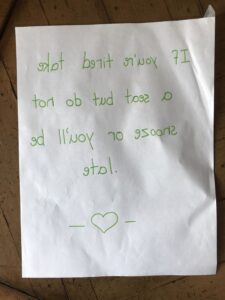 Torn Up Message (I hid a message that was all torn up. I crinkled the paper up a few times to get it good and wrinkly before I tore it up.)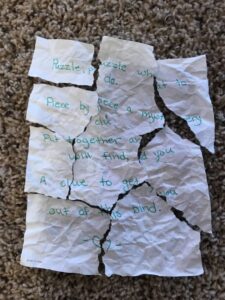 Puzzle (We have a number of easy children's puzzles. I got a few different ones and used double sided tape to tape one word on the back of some of the pieces from each puzzle. They had to put the puzzles together, flip them over and then get them in the right order to discover the message.)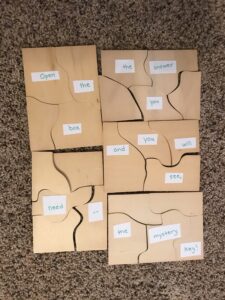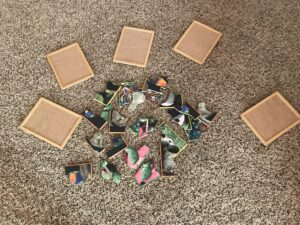 Puzzle Box (The key out of the room was hidden in a puzzle box. You can substitute this clue for another fun activity like hiding it in a sock in your child's sock drawer or something. Or you can order a puzzle box here.)
I did not really lock them in the room. I was in there with them to help give hints if needed. The key in the box was slipped under the bedroom door to my son who then opened the door. He was thrilled to be able to participate in even this very simple way. Getting to sit against the door to keep your sister shut in her room… doesn't get much better than that!
Dinner:
We opted for a nacho bar. My daughter is not a huge fan of pizza which is the easiest of all meals for parties, but a nacho bar takes a close second. We bought chips, prepped all the toppings ahead of time, and the nacho cheese was out of a can from Sam's Club and went in a crock-pot. Use a crock-pot liner. They make life so much simpler!! I even cooked the meat ahead of time, put it in the fridge and reheated it before the party. I did some with taco seasoning and some with just salt and pepper (my daughter doesn't like taco seasoning but she loves nachos. *Insert shrug here*)
Presents:
While presents were happening I had Grandma steal the birthday cake and leave a coded message behind.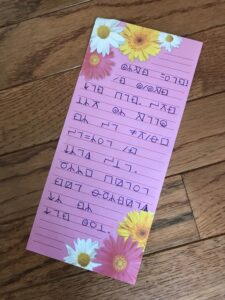 Message says: Don't fret! It didn't get wet. But you do need to be quick before it goes bye. Look where the clothes go to get dry. 
Where's the Cake Hunt:
The message that was left gave the clue for where the cake was hidden. The girls were pros at decoding now and this didn't take them long. The cake was hidden in the dryer. (Hint: Don't use your dryer close to party time or your cake will melt.)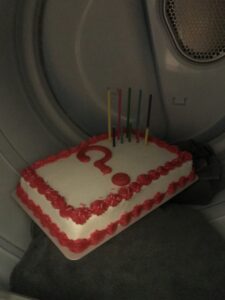 I ordered a plain cake from the grocery store and asked them to put a question mark on it.
What's in the Box Challenge:
This was by far the funniest part of the party to set up. I was giggling to myself the whole time I set up. I staged a table in a room the girls would not be going in. I put each challenge item in a dish and numbered them. I put pieces of paper with each number in a bag. Each girl would draw a number before her turn and that was the item I would bring in. I didn't want any of them to feel like I was picking on them.
Make sure to prep your box. You will need a box that is big enough to hold your items but small enough for your child to put their arms through. Cut holes in opposite sides of the box and then ask your child to stick their hands through the holes. Make sure they can reach the middle of the box. Also, stage your game close to a sink for easy hand washing.
Here are the items we chose. I made sure I had enough items for each girl to go twice:
Chicken feet
A whole fish
Whole dried shrimp
A hairy coconut
Pinecones in jello
A pineapple
A whole raw chicken
The gizzards from the raw chicken
Peeled grapes and the insides of tomatoes (the slimy seedy part)
Noodles with olive oil and sauerkraut
Chunky salsa with feta cheese
Chia seeds that had been soaked in water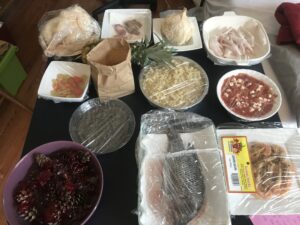 The first four items I purchased at the Mexican grocery store. I go there regularly to eat tacos. They are to die for! But I had never ordered anything from the meat counter. I stood for a long time and watched, slightly intimidated to order. I can order tacos in a mix of Spanish and English, but I had no idea how to say chicken feet in Spanish. On top of which they were doing a booming business! The longer I stood there the more tickled the guys behind the counter became. The anticipation of what this little blond woman was going to order was mounting. I finally got up my courage and muddled my way through ordering. There was a lot of pointing, and finger numbering, and laughing on both sides. I felt quite accomplished walking out with my goodies and I will definitely be going back. They had some delicious looking choices at more than reasonable prices!
Movie Time:
We decided to end the night with a movie. You can rent one or Netflix has plenty of spy themed shows to choose from. We went with their Carmen Sandiego series. This gave a chance for the girls to wind down and wait for parents to arrive.
Overall it was a fantastic night! The girls had so much fun, and the set-up was not overly difficult. I'll even admit that it was fun to be the overachieving mom. Though, I will still be more than happy to rent that room at the trampoline park!